You might be wondering why sometimes the pizza you bake is only slightly burnt and its center feels. Well, the answer is very simple – the heat does not spread evenly, and in order to get better results, you will require the best pizza stone for a charcoal grill.
A pizza stone is a baking surface made of iron, stone, or ceramic, specifically designed to bake the pizza properly. It helps in the even spread of the heat across the pizza base and absorbs the moisture, making it crisp and rich in flavor. There are plenty of such stones on today's market, but only some will give you excellent value and do an excellent job. We did research and came up with the list of the best-reviewed pizza stones we would like to share with you. So, without any delay, let us start.
List of Best Pizza Stones for Charcoal Grill
1. Pizzacraft 16.5″ Round ThermaBond Baking/Pizza Stone
Coming from the Pizzacraft store, this pizza stone will get you everything you require for a quality pizza and then some. It is an excellent mixture of style and functionality, and it is made of cordierite stone that went through ThermaBond Technology, granting you exceptional baking results.
This product possesses excellent resistance to thermal shock, avoids breakage, and delivers superb heat distribution. It is a perfect tool that provides long-lasting heat retention, and in addition, it is highly durable so that it will serve you for a very long time.
Moreover, this pizza stone is very easy to maintain and even easier to use. One thing that is important to remember about this product is that you should not season it, as it might give off a nasty chemical smell. Also, do not use any soap when cleaning it and just rinse it with hot water and some non-abrasive scrubber.
2. Pizza Stone by Hans Grill
This pizza stone is a perfect pick for anyone that enjoys homemade pizza, regardless of the baking method – charcoal grill or oven, it does not matter. You can crank up your grill up to 500 degrees and make delicious, crispy, and flavorful pizza with this product anytime.
The pizza stone has a nice rectangular shape that works perfectly for most charcoal grills, smokers, or ovens. The great thing about this product is that it does not emit any type of chemical smell once you heat it, and it delivers some of the tastiest pizza slices you will ever taste.
This product offers amazing value for a price that is more than affordable. In addition, it is also very easy to clean and store. One of the highlights of this product is the crust it delivers. It comes out crispy, and the stone helps spread the heat on all the toppings evenly and at a very high level. Great product for a great price that is well worth checking out.
3. Weber Gourmet BBQ System Pizza Stone with Carry Rack
Coming from a well-known grill manufacturer, Webber, this product meets all the expectations you might have for a top-notch pizza stone. You can use it both outdoors on your charcoal grill or indoors for your oven. Either way, the result is well-baked pizza full of rich flavor.
To get the best out of this product, make sure to preheat it, and you will be absolutely stunned by the tasty pizza you get. This stone cooks the pizza from the bottom up and delivers the crust that is much crispier than the one cooked using a pan.
It is recommended to use parchment paper rather than trying to slide the dough on the peel for a better result. This is a key thing to do, especially if you are a novice in this type of cooking. Leave the paper on for 3 to 5 minutes, and then pull it out from under with a pair of tongs. The only thing left after the whole process is to enjoy the amazing pizza you get.
4. ROCKSHEAT Pizza Stone Baking & Grilling Stone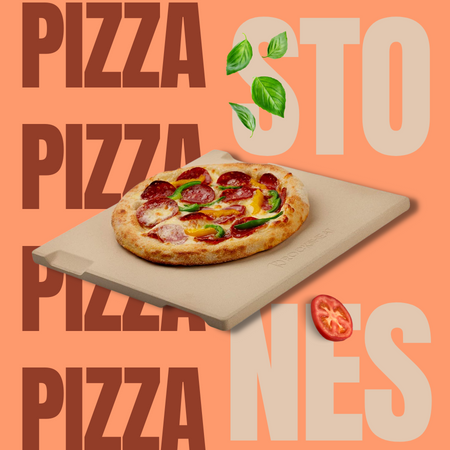 This pizza stone is a product that will help you make pizzeria-quality pizza with minimum hassle and maximum enjoyment. It is available in three variations of different dimensions, but we will focus on the 12×12 one as it is more than enough for a smaller cooking party.
Set your oven or grill to 500 degrees, leave the pizza on it for around 10 minutes, and prepare to be amazed by the delicious flavor of toppings and crispy crust that is on a level of the best pizza places. The stone is pretty light, especially when you consider its size, and despite that, the end results after the cook are truly amazing.
The pizza stone arrives very fast and well-packaged, and it is just like it is advertised in pictures on Amazon. In case you notice that there are stains after the cook, do not be alarmed since this is quite normal. It is a very well-constructed product that comes with a modest price tag, so whenever you get a chance, check it out.
5. Cast Elegance Baking Stone for Oven and Grill
Elegant, durable, and convenient, this pizza stone is a product coming from the Cast Elegance store, and it delivers fantastic results whether you are cooking on the grill or in the oven. It is by far one of the best pizza stones you can get on the market, and countless reviews just confirm the quality it boasts.
It is a pretty thick stone that does an amazing job at getting the bottom crust evenly baked and delivering rich flavor. This is a perfect tool for all fans of homemade pizzas and the delicious crispy crust that you can get in popular pizzerias and restaurants.
In addition, this baking stone is highly versatile and, what is very important – very easy to clean and maintain. Simply clean it with a damp cloth when you are done with cooking, and do not use soap by all means. The rectangular shape of the pizza stone makes it perfect for various uses, and considering the price/value ratio, you should definitely give it a chance.
6. Augosta Pizza Stone for Oven and Grill
Coming from the Augosta store, this pizza stone for oven and grill delivers stunning results and exceptional performance. You will get fantastic results if you preheat this product in an oven or grill, as the heat will spread much better and give you that restaurant-alike pizza crust that everyone wants.
You can push this product to higher temperatures without any damage to it, and given this fact, you are sure to get tasty and rich-in-flavor pizza. The stone is entirely made of cordierite material, making it very durable. Moreover, it is highly resistant to thermal shock, so you will be able to cook at higher temperatures.
Aside from being an excellent product for baking pizzas, this stone is also a great choice for various culinary endeavors. It is very good for baking bread, cookies, stuffed calzone, and various other dough dishes. On top of it all, this stone is also very easy to clean and maintain after use, completely hassle-free.
7. Lodge Pre-Seasoned Cast Iron Baking Pan with Loop Handles, 14″
This is a cast iron baking pan that will do an amazing job for most of our readers not only due to its affordable price but because it performs great in just about any application, whether it is a charcoal grill or baking oven. It is made of top-notch materials, so it is able to handle occasional drop that is bound to happen at some point.
This product performs on a very high level since it is able to retain heat efficiently and spread it evenly to bake the crust evenly. Combine all of this with amazing construction, and you got yourself a top-notch pizza pan that will serve you for a very long time.
Since this is a cast iron baking pan, it is suitable for different uses apart from cooking pizzas. You can bake vegetables, meats, and various types of dough with amazing results that provide rich flavor. Highly versatile and reasonably priced, this baking pan will provide you with everything you need and will make your cooking experience that much more enjoyable.
8. Love This Kitchen Rectangular Pizza Stone for Oven & Grill
This cordierite pizza stone is perfect for pizzas that are up to 15 inches in size. It boasts suitable thermal shock resistance, and it absorbs moisture on a very high level while spreading the heat evenly to deliver you the best possible results and tasty pizzeria-like pizza.
This product is both grill and oven-safe, and its construction ensures durability and long-lasting service for you and your needs. It is wise to test this product early to ensure there is no unpleasant chemical smell that might occur. The pizza stone also has a nice and convenient "no-spill stopper," which will ensure that you do not push pizza off it by accident.
The shape and design of this product make it suitable for many grills, making it ideal for the oven. It is much heavier and thicker than other stones on our list, making it much more resistant to impact and damage as well. This stone also retains heat on a very high level, so you will have to wait around only 5 minutes before putting the next pizza on it, making it a great choice for larger cooking parties.
9. Unicook Heavy Duty Cordierite Pizza Stone for Oven and Grill
Coming from the Unicook store, this pizza stone is an ideal choice for smokers, grills, and ovens alike. Given the fact that it is built from cordierite, it means that it can withstand extreme heat for prolonged periods, and in addition, this is a sign of high durability as well.
The rectangular shape is a huge plus for this product, as it can handle pretty big pizzas and can be used in vertical gas, propane, or charcoal smokers and grills. Moreover, you can use it as a cookie baking sheet in pretty much any oven you can think of.
This shape adds a lot of points to overall versatility both in the kitchen and when cooking outdoors. The only drawback about this baking stone is the fact that it, as is the case with most pizza stone bakeware, absorbs oils and stains. However, this is the case with most similar products, so it is a minor con that can be overlooked.
10. Vminno Pizza Stone for Ovens & Grill & BBQ
This baking stone is a product coming from the Vminno store, and it is an excellent mixture of quality and affordability. Like most pizza stones on our list, this one is made of high-quality cordierite stone that allows perfect heat distribution and retention during your cooks.
The thermal stability of this product is on a very high level, and it is manufactured to withstand high heat both on the grill and in the oven. It has multiple purposes and is suitable not only for pizzas but for baking scones, cookies, and other dough goodies as well.
This is a lightweight product that stands at a mere 5.49 pounds, which is very important if you ever struggle to bring the pizza out from the oven or from the grill due to the temperature and weight of the stone. Last but not least, this product comes with a fairly low price tag, meaning that you will get very good quality at a low cost.
Things to Consider Before You Buy Pizza Stone for Charcoal Grill
The pizza stones are very useful products that will deliver you restaurant-quality pizzas in the comforts of your household. However, to pick the right one and get the best value, you need to know the essential features that make a good pizza stone. To help you with this choice, we made a brief list of guidelines to follow during this purchase in the section below.
Size
These stones are available in various sizes, and you should pick them according to the measurements of your grill or oven. Another important aspect regarding the size is how many people you intend to cook.
If you plan to make pizza for a smaller crowd, for example, for movie night, a smaller stone will do the trick. However, if you plan to cook for birthday parties or events of similar nature, you will require the bigger stone.
Shape
The shape of the pizza stone, the same as its size, is directly connected to your charcoal grill or oven. The round shape is the most common and the most popular one, mostly due to its convenience for various grills and ovens. However, you can opt for some other shapes, like the rectangular one, which is also highly popular.
Materials
The material from which the pizza stone is made is one of the most important aspects to consider before the purchase. It is something that will make or break the product, so choose wisely. Go for material that is able to withstand higher temperatures, such as cordierite, metal, or ceramic.
Thickness
The thickness of the pizza stone you want to purchase will ultimately determine how evenly the surface will get heated while in the oven or on the grill. The thicker the baking stone is, the more heat and the pressure it will be able to endure.
Frequently Asked Questions
1. How will pizza stone for charcoal grill change the way I cook?
The pizza stone is a highly useful product that will allow you to make restaurant-quality pizzas with a crispy crust and well-cooked toppings. They are extremely convenient and a smart choice for anyone who enjoys well-baked pizza.
2. How to avoid pizza getting stuck on the pizza stone for charcoal grill?
This is a problem that a lot of people encounter, yet it has a very simple and fast solution. Just sprinkle some flour over the cooking surface before you start baking, and you are all set.
3. How do I clean my pizza stone for charcoal grill?
How you clean your pizza stone entirely depends on the material of which the stone is made. There are some general rules like not cleaning them while they are hot and to be completely dry before the use. However, just to make sure, read the manufacturer's instructions before engaging in any type of cleaning to avoid any inconveniences.
4. What material is best for the pizza stone for charcoal grill?
Go for any material that is able to distribute and retain heat. We already mentioned that the best choices are cordierite, metal, and ceramic. These materials are not only suitable for great heat retention and distribution but will also spread it evenly to get you the best crust quality possible.
Final Words
This concludes our buying guide for the best pizza stones you can find in today's market. These convenient and useful tools will completely change the way you bake your pizzas, and you will never look back once you try them.
We hope you liked our list and that you will find the product that suits you best among them. If you are still uncertain of which pizza stone to buy, revisit the list, and make sure to seek second opinions and read customer reviews, as they will help you make the right choice and get the best value for your money's worth.